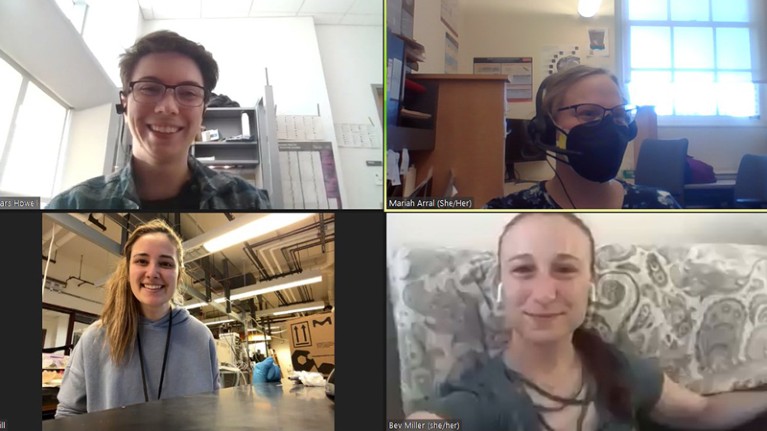 In 2019, I started my PhD at the Colorado School of Mines in Golden, conducting research on type 1 diabetes. It was a new laboratory — which brought its own challenges, especially when the COVID-19 pandemic forced people into social isolation in March 2020. Not only were we still in the process of building our lab, but I also needed to learn how to use the equipment, as well as specific techniques that required hands-on training.
Being the sole senior student in my department, the only person I had for guidance was my principal investigator (PI) Nikki Farnsworth, and although she was very helpful and excited to teach and mentor me, it was difficult not to feel alone at times because I didn't have experienced students to talk to who could empathize.
As lockdowns started taking effect, Nikki sent me a link to an online peer-mentoring group program, created by Whitney Stoppel at the University of Florida in Gainesville, that connects graduate students to help them navigate obstacles during their studies. She thought this would be a great opportunity for me to expand my network and would help me to overcome feelings of isolation, especially because I would be matched with others with similar research interests. I applied, and two days later I was matched with four other PhD students, who were studying biological topics in Virginia, Massachusetts, Pennsylvania and Texas.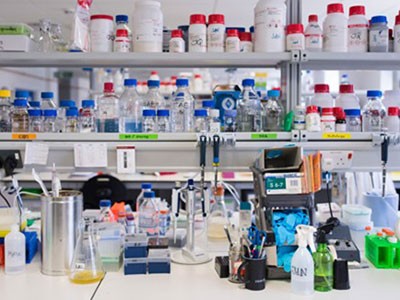 Collection: Career resources for PhD students
Our first meet-and-greet Zoom meeting was on March 23, 74 days after the pandemic was declared. Everyone introduced themselves and discussed their research areas and their university. We chatted for about an hour, and discussed basic information such as how many years we had been in graduate school, hobbies and how the pandemic had been for us so far.
Our meetings were irregular until June, when we decided to meet every other Monday for the rest of the summer. Each meeting is scheduled for one hour because people sometimes show up a little late or have to leave early. Near the end of each semester, we schedule a new time and day to meet to accommodate everyone's schedule.
My expectations were low at first, but the group has become a deep well of support and a great source for exchanging ideas and collaborations. For example, in early 2020, during my first semester in the lab, I was taking part in a task many biology PhDs will be familiar with: troubleshooting western-blot experiments. When I vented my frustrations to my support group, they recommended storing my transfer buffer in the fridge instead of at room temperature to prevent it from overheating during one of the steps.
They solved other problems, too. My protein lysate was sticking to the pipette. They made recommendations to help break up the lysate further and increase its weight so it would release more easily from the pipette. When I mentioned that my project would eventually require injections in mouse tails it turned out that some of them were experienced in the technique, and they were able to provide me with tips and tricks they had picked up that cannot be found in research articles.
The practical advice was helpful, but what was so fulfilling was the shared eagerness we had to help each other solve problems.
Communicating stress effectively
Like many young adults, I sometimes struggle not to let my emotions affect my interpretation of feedback or advice, especially given the lack of experienced graduate students from whom I can seek help. What should I do when I feel overwhelmed with work, for example? This happened towards the end of my first year as my workload increased. Feelings of stress, anxiety, frustration and fatigue became the norm until one day my mind completely stopped working. I kept this to myself until the next Monday meeting, at which I shared my feelings with my peer-mentor group. One of them asked: "Have you ever tried discussing this with your PI"? Looking back, you would think that would be common sense, but at the time I needed that outside perspective.
Communicating my stress to Nikki was very productive and I learned how to handle this situation better by being more open and taking ownership of my emotions, instead of letting them fester and build up. This simple example has significantly improved my graduate school experience. Being able to freely discuss the situation with my peer group and develop solutions and hear different perspectives has improved my ability to communicate effectively with others.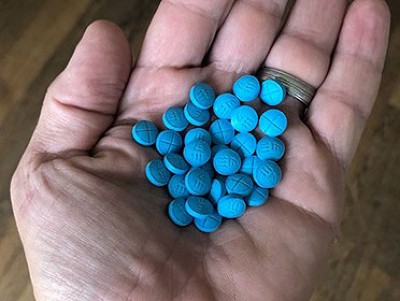 Finding mental-health clarity under pandemic pressures
Our group has also been a great source of encouragement. When someone accomplishes something important, such as publishing a paper, we all celebrate and congratulate them. I was incredibly anxious when I had to present a thesis proposal, because I was the first student in my lab to do so. I felt that the quality of my presentation and performance would negatively affect the lab's reputation if I wasn't the most impressive of the students in my class. My group was extremely encouraging. They offered to read my proposal, listen to practice presentations and even attend my proposal presentation. They strengthened my confidence and helped me realize my fears were in my head. We also discuss life outside research, such as showing off our plants and pets, and talking about vacations, hobbies and fun activities.
I encourage scientists, especially young researchers, to join or create a virtual or in-person peer mentor support system — both have their benefits. Being in this group for so long, I've learned it takes time and effort to build worthwhile relationships. It's amazing how validating it can be if even one person can empathize with your situation. Feeling listened to and heard are two very influential factors that can create a major shift in one's perception of a situation.
For peer-mentor groups expanding outside the university, in which an online platform would be required, I recommend discussing the idea with your PI and seeing whether collaborators or other schools would be interested. Or, if in-person is preferred, reach out to other graduate-student organizations to create a peer-mentorship program in the university. My group of friends reminds me of the importance of teamwork, collaboration and support. Our group was created more than 2.5 years ago, and we still meet virtually every 2 weeks.
I look forward to it every time.
Competing Interests
The author declares no competing interests.